A History of Black Bloc, plus Bad News!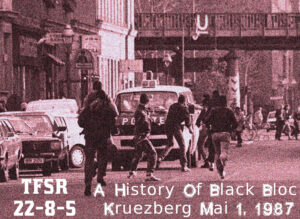 First up, we're sharing a blast from the past blast from the past, an interview that we conducted in 2013 via our comrades from A-Radio Berlin with a participant in the autonomous anti-capitalist street movement in Germany in the latter half of the 20th century known as Autonomen. Specifically, the guest speaks about the context of anonymous street actions during May Day of 1987 in the district of then-West Berlin known as Kreuzberg and about the tactic that became known as Black Bloc. Apologies for the audio quality of this portion.
You can find the full episode at TheFinalStrawRadio.NoBlogs.Org
Then, you'll be hearing portions of the May 2022 episode of Bad News: Angry Voices From Around The World by the A-Radio Network, of which the already-mentioned Berlin crew is also a member. You'll hear:
comrades from Free Social Radio 1431AM in Thessaloniki, Greece with some updates from that country.
Then, friends at Črna luknja in Lubjlana, Slovenia, shares an interview with members of the autonomous social center in Trieste known as Germinal on the 10th anniversary of that space.
Finally, you'll hear A-Radio Vienna sharing the call-out for the 2022 June 11th Day of Solidarity with Marius Mason and All Long-Term Anarchist Prisoners. You can find more on June 11th at June11.NoBlogs.Org
. … . ..
Featured Tracks: