Against Genocide: A Palestinian Solidarity Panel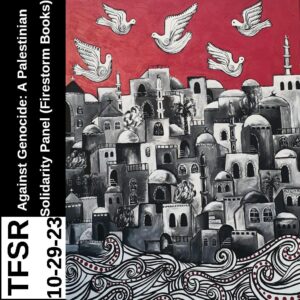 This week on The Final Straw, we're excited to share a panel discussion recorded at Firestorm Books entitled Against Genocide: A Palestinian Solidarity Panel, recorded on Sunday, October 22nd 2023. The full audio can be found, alongside transcript and zines, here.
From the event description:

"With the "iron-clad" support of the United States and other Western powers, Israel has made explicit its plan for the systematic destruction of Gaza and the Palestinian people. At this event, participants—including Palestinian and Jewish activists—will discuss the history of the occupation and the present campaign of dehumanization that's paving the way to genocide. We'll also explore the radical solidarities that are necessary to stop the assault on Gaza and secure a just peace.

This event is a fundraiser for The Hebron International Resource Network (HIRN), an organization based in the West Bank that is working to house Gazan workers deported to the West Bank by Israeli forces. Please consider bringing a cash donation! Firestorm will additionally be donating the net proceeds from all sales in-store and online.

Art by Heba Zagout, Palestinian artist killed with her two young children in an Israeli airstrike on Gaza on Friday, October 13."
Zines suggested by Milstein
Sean's Segment
We're linking here to Sean Swain's most recent segment on the history of violence before the most recent escalation of war on the people of Gaza coming from the state of Israel.
Announcement
Support Former Political Prisoner Zolo Azania
Former Black political prisoner and friend to many of us, Zolo Azania, needs our financial assistance to pay for important repairs on his car. He uses his car to drive to work. Details below. Please be generous.

Zolo recently had a new transmission installed in his car along with other necessary repairs. The total bill came out to $4,659.51. He had put aside $1,200 for car repairs, therefore he needs another $3,459.51 in order to reclaim his car.

After spending nearly 37 years in Indiana prisons, Zolo has been free for nearly 7 years now. After facing many challenges on the outside, we're very happy to say Zolo now owns a house! Of course he needs to pay a mortgage and pay for repairs and upkeep on the house. After working 5 years at low paying jobs, Zolo was recently able to obtain a better paying job with benefits. This job requires a commute which is difficult on public transportation.

Zolo would like to avoid excessive charges for the dealership to store his car. If Zolo cannot pay this repair bill he risks losing his car altogether.

Zolo appreciates any donation but please be as generous as you can.

You can send donations to him via Zelle, Venmo or Cash App ($ZoloAzania5). His accounts are under "Zolo Azania"
Bad News #72 Online Now!
You can find the October 2023 episode of the English-language BAD News: Angry Voices From Around The World podcast produced by the A-Radio Network online now, featuring a short version of our interview about the December 8th case in France, updates from Greece by way of the comrades in Thessaloniki at 1431AM Free Social Radio, and Frequenz-A about the about the Karl Helga Wagenplatz in Leipzig, which is under the threat of ever-present forces of gentrification.