Asheville FM 103.3 WSFM-LP Jazz, World, Experimental, Top Adds, and Top 30 Play Charts, April 15-April 21, 2018
===
JAZZ top ten
1. Khan Jamal Creative Arts Ensemble _ Drum Dance To The Motherland (EREMITE)
2. Miles Davis/John Coltrane _ The Final Tour (SONY/LEGACY)
3. Kamasi Washington _ Harmony of Difference (YOUNG TURKS)
4. Roscoe Mitchell/Matthew Shipp _ Accelerated Projection (ROGUE ART)
5. Jeb Bishop/Dan Ruccia _ Scratch Slice Jag (OUT AND GONE)
6. Sun Ra _ Of Abstract Dreams (STRUT/ART YARD)
7. Rempis Percussion Quartet _ Cochonnerie (AEROPHONIC)
8. Alan "Gunga" Purves _ Hide & Squeak (BROKKEN)
9. Evan Parker/Barry Guy/Paul Lytton _ Music for David Mossman (INTAKT)
10. Anne-Liis Poll/Alistair MacDonald _ Untold Story (LEO)
(compiled by Jazz director Jonathan Price)
===
World Music top ten
1 ORQUESTA AKOKAN _ Orquesta Akokan (Daptone)
2 IMARHAN _ Temet (City Slang)
3 SIDI TOURE _ Toubalbero (Thrill Jockey)
4 EUGENIA GEORGIEVA _ Pro Drum Mome (Riverboat)
5 FEMI KUTI _ One People One World (Knitting Factory)
6 SEUN KUTI AND EGYPT 80 _ Black Times (Strut)
7 DOLORES VARGAS _ La Terremoto (Pharaway Sounds)
8 HAILU MERGIA _ Lala Belu (Awesome Tapes From Africa)
9 MORENA Y CLARA _ No llores mas (Pharaway Sounds)
10 LES FILLES DE ILLIGHADAD _ Eghass Malan (Sahel Sounds)
(compiled by World Music director P-Funk)
===
Experimental Music top ten
1. William Price _ Rush Hour (ABLAZE)
2. Bill Orcutt _ Why Four Strings (PALILIA)
3. Etan Donnes with Michael Gira _ (Offenbarund Und Untergang by Georg Trakl)
4. Galactic Explorers _ Epitaph for Venus (MENTAL EXPERIENCE)
5. Sunwatchers _ II (TROUBLE IN MIND)
6. Elizabeth A. Baker _ Quadrivium (AEROCADE)
7. Marc Ribot's Ceramic Dog _ YRU Still Here (NORTHERN SPY)
8. Eraldo Bernocchi/Chihei Hatakeyama/Petulia Mattioli/Yasushi Miura _ Solitray Universe (AAGOO)
9. Essaie Pas _ New Path (DFA)
10. Caracoa _ End of Kings (INAM)
(compiled by Experimental Music director Dogeye)
===
Top Adds, week of April 15-21, 2018; WSFM-LP, 103.3 FM, Asheville FM, North Carolina
1.) Sleep _ The Sciences (Third Man)
2.) King Tuff _ The Other (SUB POP)
3.) Yung Wu _ Shore Leave (Bar/None)
4.) Kississippi _ Sunset Blush (Bug Crusher)
5.) Drinks _ Hippo Lite (Drag City)
6.) Messthetics _ The Messthetics (Dischord)
7.) Bat Fangs _ Bat Fangs (Don Giovanni)
8.) Brazilian Girls _ Let's Make Love (Six Degrees)
9.) Wrong _ Feel Great (Relapse)
10.) The Minneapolis Uranium Club Band _ Live at Arci Taun (Castleface)
====
Top 30 Play Chart, week of April 15-21, 2018; WSFM-LP, 103.3 FM, Asheville FM, North Carolina
1.) Nest Egg _ Nothingness is Not a Curse (Fuzz Club)
2.) 17) CHAI _ Pink (Burger)
3.) 8) Nihilist Cheerleader _ Riot, Right? (Perfect Attendance)
4.) Amen Dunes _ Freedom (Sacred Bones)
5.) Haley Heynderickx _ I Need to Start a Garden (Mama Bird Recording Co.)
6.) X) 23) X) X) X) X) 1) Loma _ Loma (SUB POP)
7.) Van Morrison & Joey DeFrancesco _ You're Driving Me Crazy (Legacy/Sony)
8.) Albert Hammond Jr. _ Francis Trouble (Red Bull)
9.) Coach Phillips _ Learning How to Swim EP (Coach Phillips LLC)
10.) Iron Reagan + Gatecreeper _ Split EP (Relapse)
11.) 18) 2) Wye Oak _ The Louder I Call, The Faster It Runs (Merge)
12.) 12) 12) 2) Juliana Hatfield _ Juliana Hatfield Sings Olivia Newton-John (American Laundromat)
13.) 15) X) X) X) X) X) 6) 12) 4) No Age _ Snares Like a Haircut (Drag City)
14.) X) 17) 12) 20) 14) 14) 7) 11) 1) Ty Segall _ Freedom's Goblin (Drag City)
15.) 1) 1) Sun Ra _ Of Abstract Dream (Strut)
16.) 7) 15) Orquesta Akokaq _ Orquesta Akokan (Daptone)
17.) 5) Miles Davis & John Coltrane _ The Final Tour: The Bootleg Series, Vol. 6 (Columbia/Legacy)
18.) 25) Swampmeat Family Band _ Too Many Things to Hide (PNKSLM)
19.) X) 14) 19) 8) Nathaniel Ratliff & The Night Sweats _ Tearing At The Seams (Stax)
20.) 3) 3) Frankie Cosmos _ Vessel (SUB POP)
21.) Janelle Monae _ Dirty Computer (Bad Boy)
22.) Vundabar _ Smell Smoke (Gawk Records)
23.) Brazilian Girls _ Let's Make Love (Six Degrees)
24.) 2) 26) X) 19) 12) 2) 2) 1) 5) Screaming Females _ All At Once (Don Giovanni)
25.) 27) 19) 14) 2) 10) Guided By Voices _ Space Gun (GBV Inc.)
26.) 21) 21) Jack White _ Boarding House Reach (Third Man)
27.) X) X) 30) 30) 30) 30) X) 13) 30) 1) Sunwatchers _ II (Trouble in Mind)
28.) Alison Wonderland _ Awake (Astralwerks)
29.) 23) 20) Nomos 751 _ Nomos 751 (Slovenly Recordings)
30.) 30) 30) Brother JT _ Tornado Juice (Thrill Jockey)
weekly rank.) previous) rank) * X) = did not chart that week
===
other NEW-ish stuff played: Adam Holzman, Anderon .Paak, Andrew W.K., Anmls, Archie and the Bunkers, Beach House, Biig Piig, Billy Lemos, The Bonnevilles, Boy Pablo, Brett's Milk, Buzzy Lee, Johnny Cash: Forever Words, Camp Cope, Charlie Ballantine Bob Dylan covers, Cautious Clay, Cherry Glazerr, Confidence Man, Creep Show, The Damned, David Byrne, Dead Horses, Dead Meadow, Death By Unga Bunga, The Decemberists, De Lux, Death Bells, Delvon Lamarr Organ Trio, Dream Wife, Ed Schrader's Music Beat, Elise LeGrow, Empress Of, Ezra Furman, The Ex, Flossie Dukeshire, Forest Bees, Franco Batiatto, Gang Gang Dance, Gary Lucas And Nona Hendryx, Ghost, Grouper, Haleek Maul, Happy Axe, The Happy Fits, Hatchie, Heaven, Hide, Hinds, Hop Along, Hot Snakes, Hovvdy, I Marc 4: Nelson Psychout!, Imarhan, James Hunter Six, Jamila Woods, Jeb Bishop & Dan Ruccia, Jenny Hval, Laura Marling, LUMP & Mike Lindsay, Laurence Pike, Lucy Dacus, Lucy Railton, Reina Del Cid, Khraungbin, Kingfisher Sky, Mansion of Snakes, Marc Ribots Ceramic Dog, Maria Usbeck, The Men, Middle Kids, Michael Rault, Michael Seyer, Millionyoung, Mind Over Mirrors, Moon Gangs, Mount Eerie, mouse on mars, Nai Palm, Nap Eyes, of Montreal, OSHUN, Ought, Patrick Paige II, Pines, Paul de Jong, Princess Nokia, Rafiq Bhatia, Renick Bell, Ricky Hell & The Voidboys, Ruby Velle & The Soulphonics, Runelord, Shirked, Son Lux, Speedy Ortiz, Saba, Seun Kuti & Egypt 80, Sevdaliza, Shannon & the Clams, Soccer Mommy, Spock's Beard, Stevie Tombstone, Subsonics, Superchunk, Superorganism, Steve Reich, The Sword, Topaz Jones, Tracey Thorn, Tuneyards, µ-Ziq, The War on Drugs, Wei Zhongle, Wendy Rae Fowler, Wet, Yo La Tengo, Neil Young live at the Roxy
Asheville FM played NEW LOCAL music by Aunt Sis, Crooked Ghost, housefire, Living Dog, Nathanael Jordan, MJ Lenderman, Seven and a Half Giraffe, Shaken Nature, Toubab Krewe, and The Velvet Wolves.
===
Asheville FM Top Ten commentary, week of April 1-April 7, 2018; WSFM-LP, 103.3 FM, Asheville FM, North Carolina
1.) Nest Egg _ Nothingness is Not a Curse (Fuzz Club) … excellent kraut-psych post-punk-prog from Asheville … Nest Egg follows up 2015's Respectable LP (Bathetic) with a full boat of entrancing riffs/grooves/heavenly moves on Nothingness … Nest Egg album release show May 26, 2018 @ Mothlight w/ Ex Gold (Knoxville, Tennessee), Smoke Bellow (Baltimore, Maryland)
2.) 17) CHAI _ Pink (Burger) … DJ Jess Speer wrote: "Debut album Pink from Japanese band CHAI, formed in 2012 by twin sister Mana and Kana along with their college friends Yuuki and Yuna. Styles vary from rock to dance to funk with hip-hop, garage and electronic influences. The band motto is "Complex is Art" (as in psychological complex) and their songs push positive messages about self-acceptance, rejecting cultural beauty norms, and owning your body hangups, but like riot grrrls before them, these kids don't let the message get in the way of fun."
3.) 8) Nihilist Cheerleader _ Riot, Right? (Perfect Attendance) … Athens, Georgia, catchy poppy indie punk riffs with cutting vocals by guitarist Flynne Collins, Nihilist Cheerleader somersaults into AFM's Top 3 from last week's 8 …
4.) Amen Dunes _ Freedom (Sacred Bones) … DJ Sarah B. opined: "I have a hard time describing this music. It's rock music first and foremost, I think. But it's also pop, soul, funk, folk, and electronic. Sometimes Damon McMahon's voice reminds me of Ryan Adams, sometimes of Mick Jagger and who knows who else, but it's always unique. He's got that vibrato. I like the way he sings. But his voice does tend to distract from the lyrics. According to Spotify, 'Freedom is a reflection on growing up … The themes are darker than on previous Amen Dunes albums, but it's a darkness sublimated through grooves.' 'Grooves' is a good word to use when describing this music that's so hard to describe. There's not a bad track here."
5.) Haley Heynderickx _ I Need to Start a Garden (Mama Bird Recording Co.) … DJ Sarah B. reviewed: "Debut full-length from Portland chanteuse who also plays a mean guitar."
6.) Loma _ Loma (SUB POP) … Loma air support as Asheville FM deejays anticipated Loma's April 27 (this Friday) show @ Mothlight w/Jess Williamson
7.) Van Morrison & Joey DeFrancesco _ You're Driving Me Crazy (Legacy/Sony) … DJ Joey Books said: "Van-the-Man and Joey D explore jazz/blues standards alongside fresh arrangements from Morrison's past catalog. Some brilliant interpretations from this collaboration, though a couple of Van's songs aren't much different than arrangements on his previous albums. Still, a great listen!"
8.) Albert Hammond Jr. _ Francis Trouble (Red Bull) … DJ Kathryn reviewed: "4th Studio release from the Strokes guitarist. Jangly pop rock, similar to The Strokes. Not groundbreaking stuff but some good tracks here."
9.) Coach Phillips _ Learning How to Swim EP (Coach Phillips LLC) … DJ Jake Y. opined: "This album is kinda fun … the songs are catchy if not exactly earth-shattering. Overall it's a fun album … dropping the occasional name of a long-lost hair-metal band, annoying the neighbors, or just reminiscing on coming of age."
10.) Iron Reagan + Gatecreeper _ Split EP (Relapse) … hardcore crossover thrash-metal from Richmond, Virginia … Iron Reagan plays May 1 (Tuesday) @ The Mothlight with Neverfall from Greenville, South Carolina, and Asheville local support by Covenator
=====
On the April 21 edition of By All Means Necessary (Saturday, 10pm-midnight), DJ Donovan Quixote paid tribute to Charles Mingus (April 22, 1922 – January 5, 1979) for his birthday.
DJ Cousin TL broadcasted a wonderful 3-hour Prince (June 7, 1958 – April 21, 2016) memorial show on Stank Free Radio (Saturday, 7-10pm).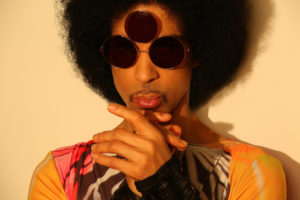 You can listen in to either program in archive and all our radio shows during the week until next episode.
ashevillefm.org
—
Alrighty then, time for Asheville FM's Spring fund drive, starting April 28 through May 4!