Asheville FM 103.3 WSFM-LP Jazz, World, Experimental, Top 30 Play Charts, week of August 12-18, 2018
(with travel photos by Asheville FM deejay Gypsy Flores, host of Musical Migrations, Wednesdays, 1-4 pm)
===
(Bastille Day in Saint Hippolyte du Fort, southern France)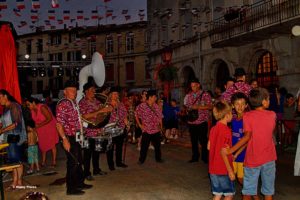 JAZZ top ten
1. Third Coast Ensemble – Wrecks (ROGUE ART)
2. John Coltrane – Both Directions At Once (IMPULSE!)
3. Spontaneous Music Ensemble – Karyobin (EMANEM)
4. Stefano Leonardi – L'Eterno (LEO)
5. Biggi Winkelte Roughtet – Au Quotidien (EDGETONE)
6. Evan Parker/Barry Guy/Paul Lytton – Music for David Mossman (INTAKT)
7. A Pride of Lions – A Pride of Lions (THE BRIDGE SESSIONS)
8. Chris Cogburn/Ingebrigt Haker Flaten/Bob Hoffnar/Henry Kaiser – En Las Montañas de Excesos (SELF SABOTAGE)
9. Sun Ra – Of Abstract Dreams (STRUT/ART YARD)
10. Alan "Gunga" Purves – Hide & Squeak (BROKKEN)
(compiled by Jazz director Jonathan Price)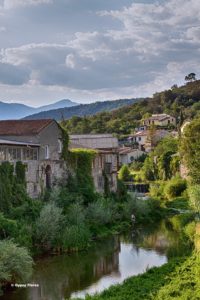 (Saint Hippolyte du Fort, France)
===
(view from Saint-Roman-de-Codières, southern France)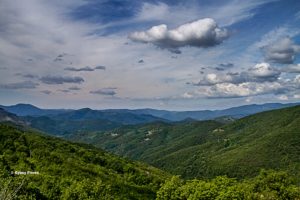 World Music top ten
1. Mulatu Astatke _ Afro-Latin Soul Vols. 1&2 (STRUT)
2. Angelique Kidjo _ Remain in Light (KRAVENWORKS)
3. Bombino _ Deran (PTFK)
4. Pierre Sandwidi _ Le Troubadour de la Savane 1976-80 (BORN BAD)
5. Orquesta Akokán _ Self-Titled (DAPTONE)
6. Junior Byles _ Rasta No Pickpocket (OMNIVORE)
7. Ethiopians & Gladiators _ Dread Prophecy (NIGHTHAWK)
8. Cuasares _ afro-progresivo (PHARAWAY SOUNDS)
9. Anandi Bhattacharya _ Joys Abound (RIVERBOAT)
10. Various Artists _ African Scream Contest 2 (ANALOG AFRICA)
(compiled by World Music director P-Funk)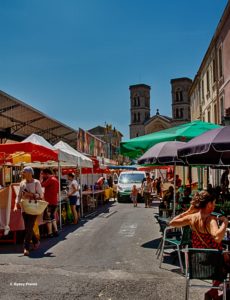 (Saturday open air market in Ganges, southern France)
===
(silk museum in Saint Hippolyte du Fort, France)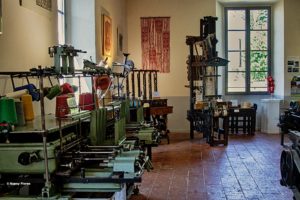 Experimental Music top ten
1. Shuta Hasunuma & U-zhaan _ 2 Tone (BIRDWATCHER)
2. Sarah Bernstein Unearthish _ Crazy Lights Shinning (PHASE FRAME)
3. Alanis Obomsawin _ Bush Lady (CONSTELLATION)
4. Subterrene _ Bathetic Resonance (BAD ARCHITECT)
5. Stephanie Richards _ Fullmoon (RELATIVE PITCH)
6. Ben LaMar-Gay _ Castles Can Never Block the Sun (INTERNATIONAL ANTHEM RECORDING CO.)
7. Carla Bozulich _ Quieter (CONSTELLATION)
8. Eraldo Bernocchi / Bhihei Hatakeyama _ Solitary Universe (AAGOO)
9. The Young Mothers _ Morose (SELF SABOTAGE)
10. Marisa Anderson _ Cloud Corner (THRIL JOCKEY)
(compiled by Experimental Music director Dogeye)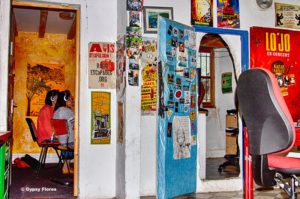 (Radio Escapades, Saint Hippolyte du Fort, France)
===
(Fête votive in Saint Hippolyte du Fort, France)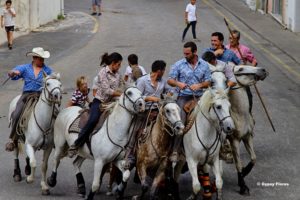 Top 30 Play Chart, week of August 12-18, 2018; WSFM-LP, 103.3 FM, Asheville FM, North Carolina
1.) Basement Revolver _ Heavy Eyes (Sonic Unyun)
2.) Israel Nash _ Lifted (Desert Folklore)
3.) The Beths _ Future Me Hates Me (Carpark)
4.) Rolling Blackouts Coastal Fever _ Hope Downs (SUB POP)
5.) 8) Free Cake For Every Creature _ The Bluest Star (Double Double Whammy)
6.) Dirty Projectors _ Lamp Lit Prose (Domino)
7.) 20) Helena Hauff _ Qualm (Ninja Tune)
8.) Mulatu Astatke & his Ethiopian Quintet _ Afro Latin Soul Vols. 1&2 (Strut)
9.) 4) The Interrupters _ Fight the Good Fight (Hellcat/Epitaph)
10.) 6) Subsonics _ Flesh Colored Paint (Slovenly) … Subsonics, Sept. 1 @ Fleetwood's w/Greg Cartwright, Cadavernous
11.) 1.) Spider Bags _ Someday Everything Will Be Fine (Merge) … Spider Bags plays Sept. 15 @ The Grey Eagle w/Floating Action, The Rock*a*Teens
12.) 3) 21) Ty Segall & White Fence _ Joy (Drag City)
13.) 22) Oh Sees _ Smote Reverser (Castleface)
14.) 30) 8) 14) Clearance _ At Your Leisure (Topshelf)
15.) XXX) 11) 27) XX) 22) The Dead Tongues _ Unsung Passages (Psychic Hotline)
16.) 25) 5) 20) 20) 7) 17) Dear Nora _ Skulls Example (Orindal)
17.) 18) 11) Zook _ Garden Variety (self-released)
18.) 17) X) 9) XXXX) 16) 6) 15) 3) Wooden Shjips _ V. (Thrill Jockey)
19.) 27) 27) 26) 6) 1) Wimps _ Garbage People (Kill Rock Stars)
20.) 9) 1) Thin Lips _ Chosen Family (Lame-O)
21.) XXX) 22) 31) 28) Vital Idles _ Left Hand (Upset The Rhythm)
22.) 7) 16) 3) The Tissues _ Veil (self-released)
23.) 12) Chastity _ Death Lust (Captured Tracks)
24.) X) 18) X) 2) Hana Vu _ How Many Times Have You Driven By (Luminelle)
25.) X) 12) Gorillaz _ The Now Now (Warner Bros)
26.) Xx9) 24) 18) 21) 12) 4) 7) Liz Phair _ Girly Sound to Guyville remastered (Matador)
27.) Xx10) 34) X) 25) 17) 13) 5) King Tuff _ The Other (Sub Pop)
28.) 10) Nervous Exits _ Get Out (Sonic Surgery)
29.) 26) X) 16) 12) 3) X) 12) 5) 5) 1) 13) 5) Courtney Barnett _ Tell Me How You Really Feel (mom+pop)
30.) 24) Sumrrá _ 6 Mulleres (Clermont)
weekly rank.) previous) rank) * X) = did not chart that week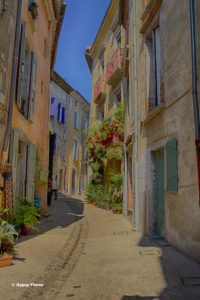 (Sauve village near to Saint Hippolyte du Fort, France)
=====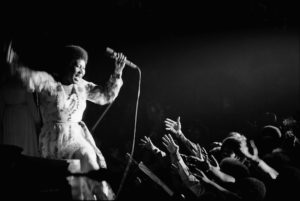 … since the news of Aretha Franklin's passing August 16, numerous Asheville FM deejays (Jonathan Daddy Pops, Sarah P. Girls2theFront, PFunk Mothership, DJ Mouse filling in Deep Cuts, Greg L. Good Bad Ugly, Don Howland filling in Feels Like The First Time, Donovan Q. filling in 2Dark4Disney, And The Address Randy, Something Else Ernesto, My So-Called Airon, By ALL Means Donovan again, Electro Retro Lady D, Andy filling in Through The Fog, Steven Mental Notes, Russell Political Alchemy, Better Blues Bureau Mark, Kathryn Live Transmission, Joey Life Out of Tunes) have played Aretha's music, each's varied song selections _ popular as well as unsung _ reflecting their particular appreciation for the Queen of Soul …  (two deejays _ Positive Vibrations DJ Smittymon  and Gerry Sound Hive _ presciently played Aretha songs in the days right before her death) … Whitney In The Box, Erik The Uncola, and Matt Let There Be Rock astutely dedicated whole hours of their radio shows to the Queen of Soul …
You can further see/hear how Asheville FM honored Aretha Franklin by accessing the On-Air Schedule section grid to find each radio show, peruse the playlists, and listen to radio shows in archive during the week until a show's next airing.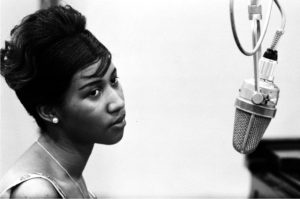 Aretha Franklin (March 25, 1942 – August 16, 2018)
=====
P.S. Asheville FM played music by local Asheville artists including Andrew Scotchie & The River Rats, Black Sea Beat Society, Crooked Ghost, Daydream Creatures, Demier Javon, Polly Panic, The Power, Pretty Pretty, and David Washington this past week.
=====
Asheville FM WSFM-LP
864 Haywood Rd.
Asheville, NC 28806
ashevillefm.org