Asheville FM Live Music Sessions – Wednesday, June 9th, 2021
Krave Amiko – Live from The Pulp

AshevilleFM, Bhramari Brewing Company and the Orange Peel / Pulp have teamed up to provide you this live performance…
just hit play on the audio track below…
Special thanks to our volunteer audio engineers Dave Baker and Bruce Swan for the excellent sound
Recorded during safe harbor – Explicit language warning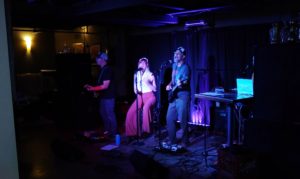 Krave Amiko – Indie electronic folk vibes from Asheville, NC.
Dreamy vocals, heartfelt lyrics, a dash of epic rock guitar and a splash of super soaker bass makes this award-winning, genre-defying band a force to be reckoned with in the indie music scene.
The band includes:  singer/songwriter/producer Rob Walsh, singer Stephanie Barcelona,  guitarist Nestor Teran, and bassist Joseph Allawos.
Their latest album.. called Before the Words – released May 5, 2020          more info below…
Orange Peel 
The Orange Peel was opened in 2002 and, in April 2008, was named one of the top five music venues in America by
Rolling Stone
magazine.  It has a capacity of 1,050 people and has hosted many well known acts;
The Pulp – a downstairs members-only venue and liquor bar. Pulp is open every night there is a show, and a live feed is piped in to allow patrons to view and listen to the show occurring upstairs. Pulp is also open various other nights for events featuring local artists and "Slice of Life" open-mic comedy nights and features Asheville's largest list of bourbons.
.
Bhramari Brewing Company, located at 101 South Lexington Avenue in Asheville. They are a local craft brewery and restaurant featuring beers and food and are open seven days a week from 12pm to 9pm.  In house, pickup and delivery are available.  More info is at bhramari brewing dot com
Asheville FM Live Music Sessions
Wednesday's at 10pm
@AshevilleFM 103.3