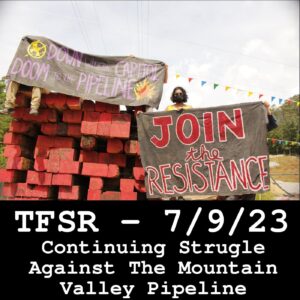 This week, we're sharing a conversation with Rose and Crystal, two comrades involved in the struggle against the Mountain Valley Pipeline, a 304 mile, 41 inch in diameter liquified so-called natural gas pipeline with a possible 75 mile extension crossing many delicate waterways, slopes and communities across Virginia, West Virginia and North Carolina.
Past episodes with MVP resisters found here. Full podcast found here.
This project has been off and on under construction since 2018 and was recently forced through at a Federal level as part of the debt ceiling deal by the Biden administration and Democrats. For the hour we talk about the project, the land and water it threatens, the history of resistance and how to get involved in stopping this mess.
Just a headsup, there are some audio quality issues throughout the conversation with both guests, so if you have trouble hearing consider checking out the upcoming transcript or meanwhile watching on youtube with the subtitles on.
You can find more from the folks resisting the MVP by searching Appalachians Against Pipelines on various social media platforms or check the links in our show notes, where you can also find links to our various interviews with folks from this initiative from the last 5 years.
Past Episodes:
Links
Announcements
Sean Swain Featured in YouTube Documentary Series
The channel called Political Prisoners on youtube, linked in our show notes, has begun a series of short documentaries about Sean, the first of which you can find entitled "Part One: A Visitation Dispute". Check it out!
Disability Pride Art Show
The Disability Pride Art Show aims to celebrate the rights of disabled individuals through the power of art. This one-day event will take place on July 30 at the vibrant venue, Different Wrld, located in 801 Haywood Rd. The show embraces the core values of acceptance and inclusivity, emphasizing the inherent worth and talents of disabled individuals. Presented by DIYabled, a local nonprofit organization, and with This Body is Worthy.
Featuring a diverse lineup of 25 talented artists, writers, video artists, and dancers, the Disability Pride Art Show promises to captivate audiences with a rich variety of artistic expressions. Attendees will have the opportunity to immerse themselves in the thought-provoking documentary "Disability on the Spectrum," created by local artist Priya Ray. The film sheds light on the experiences and perspectives of disabled individuals, fostering greater understanding and empathy within our community.
Rashid's Continued Denial of Cancer Treatment
Check our show notes for Rashid's message, but as noted last week, incarcerated revolutionary of the Intercommunal Black Panther Party, Kevin Rashid Johnson, is continuing to be denied his rounds of cancert treatment for prostate cancer and has been shoved in a solitary confinement cell without working lights. In the show notes and at our website you'll also find contacts for prison officials in Virginia who need pressure applied to get Rashid the medical treatment he needs, outside of the dungeon they've stuck him in.
Comrades:

This is Rashid. I need all possible SUSTAINED and immediate support.
Here is a statement of my situation.

OFFICIALS DEVISE TO STOP MY CANCER TREATMENT AND BLOCK MY COURT ACCESS
(2023)

By Kevin "Rashid" Johnson

I have been going out daily since early April 2023 for radiation
treatment at the Medical College of Virginia – a total of 40 treatments – which is ongoing. On 6-29-23 upon returning to the prison from the hospital I was thrown in solitary confinement without explanation, where I remain, without any property including all my legal property.

I was put in cells without working lights, where I remain.

After constant complaints all I'm being told is I am under
investigation, but not by prison investigators. I spoke with a prison
investigator, a Lieutenant Spencer, on July 1 when she delivered me
legal mail, asking about my status and access to my legal property. She informed me, while her body camera was recording, that I am under investigation by other state prison investigators and the prison was not withholding my legal property. She said any supervisor could get my property for me which was in the property department.

Despite this everyone refuses to deliver my belongings and I have been kept in an empty cell ever since. This despite that the VDOC is under court orders to not interfere with my access to and use of my legal property and I have numerous court deadlines and a pending federal civil trial in one of my lawsuits.

On 6-30-23 officials refused to allow me to attend my cancer treatment.
My numerous written emergency complaints about this went unanswered and unprocessed.

On 7-3-23 after days in an empty cell without my things I declined to go for my treatment that one day to try and call the courts to explain and seek intervention. Officials including the warden and assistant warden refused me a legal call and are now refusing all my future cancer treatments.

The entire claim to have me under investigation is facially invalid and
illegal. As any legal authority recognizes, law enforcement officials
must perform investigations consistent with the search and seizure
provisions of the 4th Amendment. And any "unlawful search or seizures" renders any evidence gathered therefrom illegal. Both the seizures and searches of me and my property have been unlawful from the outset. My belongings, my legal property in particular was taken and searched outside my presence, which is illegal. Prison officials may only open our legal mail and search our legal property in our presence. That is constitutional law. Here in Virginia we may only be removed from General population and put in solitary if written notice is given within 24 hours. I received no such notice.

People to contact:

CLARKE, HAROLD W(804) 887-8080 HAROLD.CLARKE@VADOC.VIRGINIA.GOV
DEPARTMENT OF CORRECTIONS, CENTRAL ADMINISTRATION (DOC/CA, 701)

ROBINSON, DAVID N (276) 524-3685 DAVID.N.ROBINSON@VADOC.VIRGINIA.GOV
WALLENS RIDGE STATE PRISON (WRSP, 735)

CABELL, BETH E(804) 834-1327. BETH.CABELL@VADOC.VIRGINIA.GOV
CORRECTIONS – DIVISION OF INSTITUTIONS (DOC/DI, 756)

*SMITH, RUTH H(434) 767-5543. Email- RUTH.SMITH@VADOC.VIRGINIA.GOV ,
NOTTOWAY CORRECTIONAL CENTER (NCC, 745)

HERRICK, STEPHEN M
(804) 887-8118
Email~ STEVE.HERRICK@VADOC.VIRGINIA.GOV CORRECTIONS – DIVISION OF
INSTITUTIONS (DOC/DI)
. … . ..
Featured Tracks:
Cumberland Blues by Fiddlin' Doc Roberts from Mountain Blues: Blues, Ballads and String Bands
System's Gonna Burn by Wren & Acre (based on Woody Guthrie's "Fascists Bound To Lose")
When You Think MVP by Yellow Finch residents