Diane Stevens of Jane Collective (ACABookfair 2023)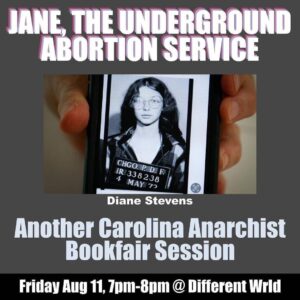 This week on TFSR, we'll be airing a presentation by Diane Stevens, a member of the Jane Collective in Chicago in the 1960's. This presentation was recorded at the 2023 Another Carolina Anarchist Bookfair in so-called Asheville, NC.
From the presentation description:
The Abortion Counseling Service, now better known as Jane, started out as a referral service in Chicago in the late 1960s, providing counseling and support to women before and after their procedures. Members of the group learned to do the abortions and then were able to do the procedures for whatever the women could afford to pay. Seven women were arrested and charged with the felonies of abortion and conspiracy to commit abortion. These charges were ultimately dismissed. It is estimated that about 11 thousand abortions were preformed before the group disbanded in 1973.
Diane Stevens was born in Chicago. She went to school in the suburbs before moving back into the city where she joined the Abortion Counseling Service.
Following the Roe v Wade decision and dismissal of all the criminal charges, Diane went on to have a career in health care and worked as a nurse practitioner in a variety of settings. Her work for reproductive justice has resumed with joining the Reproductive Rights Coalition in Charlotte and being a clinic escort.
You can hear another presentation we recorded from the ACABookfair 2023 in this week's IGD Podcast, which is sharing Lorenzo Kom'boa Ervin and JoNina Abron-Ervin in conversation with William C. Anderson.
. … . ..
Featured Track:
I Can See Clearly Now (Instrumental) by Trem One from Amateurs EP