Mutual Aid At The Border in Tijuana with El Comedor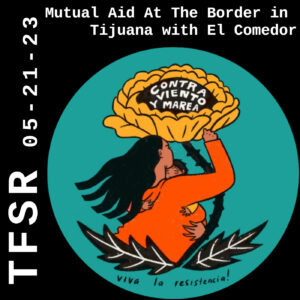 This week, we're sharing a recent chat with Devi Machete, an anarchist involved in the Tijuana mutual aid project known as Contra Viento y Marea Comedor which distributes clothing, medical supplies, meals and packaged food throughout the week near the border with the USA. The project, known for short as El Comedor is launching a free school and art laboratory in May. For the hour, we talk about the migrant caravan in 2018 that gave rise to El Comedor, the self-organized work around the project and resisting the dehumanization of the border through solidarity and community. Full podcast available here.
Since the US allowed the Trump-Era Title 42 Covid-based restriction on immigrants entering the country to expire and has moved back to Title 8, so in a post-script Devi talks about concerns of a surge at the border and the further difficulties this change creates for migrants and refugees seeking asylum in the north.
You can also check out our prior interview with Elements of Mutual Aid directors Leah & Payton to get some visuals of El Comedor, which is a featured project in that docu-series.
Announcement
Phone Zap for Shine White
All power to the people,

As I've pointed out in my previous writings, Hepatitis C kills more Amerikans each day than HIV and sixty other infectious diseases combined, making it the deadliest infectious disease in the United States. It is a viral infection, caused by the Hepatitis C virus ("HCV") that affects the liver and can result in serious, life-threatening complications.
On February 15 of this year blood tests revealed that I had Hepatitis C. In contrast to NCDAC's Clinical Practice Guidelines (CPG) for the treatment of Hepatitis C, I was sent back to my cell, instead of having further blood testing done to determine my fibro-scores.
I was provided no further information, other than that I had Hepatitis C and that I would be seen by the facility's healthcare provider at a later date. The following days were mentally exhausting.
Only after consulting with a prisoner who was receiving treatment for HCV at the time, did I become aware of the procedures that are in place for evaluating and treating prisoners who have the Hep-C virus. Before treatment can be started, additional blood testing is required to determine one's level of fibrosis.

After becoming aware of the aforementioned, I immediately began to submit sick calls requesting the required blood testing be done to determine my Fib-4 index score. My sick calls went unanswered, only after those of you on the outside made calls to the prison on my behalf was I taken to medical to have the Fib-4 test done. The test results revealed that my Fib-4 score was 5.7, which indicates that I am at risk of cirrhosis, liver disease and/or liver cancer. However, the health care provider has yet to begin my treatment.
These scores were revealed to me on March 3, subsequently I've not been assessed by medical personnel since, despite submitting multiple sick-calls due to the complications I am experiencing caused by the hepatitis-c virus.
Since early March I have lost approximately 30 pounds, I have various pock-like scores on my lower legs, rashes cover my elbows and knees, and the sharp pains in my lower back and side make it difficult to sleep at night. When I inquire about my treatment, the response I receive is that it is out of their hands.
I am firmly convinced that they have no intentions of treating me. Combined with the recent continuation of my term on supermax, it's evident that their intentions are to hold me incommunicado and hope that the hepatitis-c will do what they have been unable to do – silence me!
Having to openly admit that I am at the mercy of my overseers infuriates me. I feel helpless and I am scared. I'm witnessing what is being done to Komrade Rashid, I witnessed the late elder Maroon Shoatz languish with cancer for years, Mumia Abu-Jamal continues to suffer from complications caused by hepatitis-c, the names go on and on. I feel as if my twenty-year prison sentence has become a death sentence.
I entreat that calls be made and emails be sent on my behalf, demanding that I be treated immediately. Only if pressured by those of you on the outside will these miscreants act with professionalism.

I am deeply grateful for the support. I conclude this as I began,
Daring to struggle, daring to win
All power to the people,
Joseph "Shine White" Stewart
Below is the contact information for those who should be contacted:
NCDAC's Deputy Secretary – Comprehensive Health Services
Gary Junker
919-838-4000
gary.junker@dac.nc.gov
Chief Deputy Secretary – Rehabilitative and Correctional Services
Maggie Brewer
919-733-9313
maggie.brewer@dac.nc.gov
Facility's lead nurse
J Rowe
jacqueline.rowe@dac.nc.gov
. … . .
Featured Tracks:
One by J Dilla from Welcome 2 Detroit Instrumental
En Caravana by Chiky Rasta
Es Épico by Canserbero from Can Vive