Mutual Aid Under Attack: a conversation with the AVL Park Defendants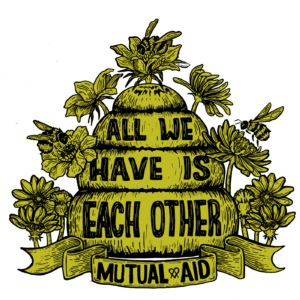 This week on TFSR, we are presenting a conversation with three defendants who are in an ongoing legal battle with the city of Asheville. This group is collectively known as the Asheville Park defendants and is made up of 15 people, three of whom are speaking today. They are all facing felony littering charges in connection with a demonstration in December of 2021 against a targeted camp sweep in a local park adjacent to the downtown district. For this interview, we will talk about their case, the issue of the mistreatment of houseless people generally, camp sweeps and what they mean specifically, how the charge of felony littering is often deployed by the courts, the nationwide crackdown on mutual aid, their own activisms, and how to keep in touch with this situation and support the 15 defendants. You can read all about their case and keep up with this ongoing situation at avlsolidarity.noblogs.org.
You can hear this full interview at TheFinalStrawRadio.NoBlogs.Org
Mutual Aid Under Attack: a conversation with the AVL Park Defendants
To donate to these folks you can venmo @AVLdefendantfund. The defendants would also like to plug the venmos of another AVL based mutual aid group Asheville Survival Program (link shows an interview with participants of ASP with The Final Straw radio show in October 2021), which is @AVLsurvival, the local Anarchist Black Cross chapter Blue Ridge ABC and their venmo is @BlueRidgeABC, and Asheville for Justice (@ashevilleforjustice on Venmo) which is a mutual aid organization dedicated to combating systemic oppression by offering direct community support.
. … . ..
Music for this episode is an edited version of:
Eyeliner by American Hairlines off of the Free Music
Archive on archive.org, editing by Amar.