Airs on WSFM-LP 103.3 in Asheville / streaming at AshevilleFM from 3am EST on March 16th through 22nd, 2020 and podcasting on libsyn.com.
No Evil Foods Union and PLAN Line 3
Union Busting At No Evil Foods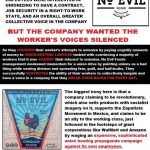 This week on The Final Straw, we're presenting two conversations. The first was a chat with workers from the local, plant-based protein company 'No Evil Foods'. The company has been getting flack for using social justice imagery while working to undermine unionization efforts at it's factory here in Asheville, NC. The workers talk about strategies they took in organizing attempts and experiences they had with disinformation about collective bargaining from the management and the union-busting consultants in their employ. In order to protect the anonymity of the workers, we've replaced their voices with our own. See our show notes for a script of the chat. Although not affiliated with the unionizing effort, the fedbook page for Asheville Solidarity Network hosts some of the flyers in support of workers unionizing No Evil Foods and Mission Hospital. It's also acting as a hub for posts about mutual aid responses to the Covid-19 and the Corona virus crises in the Asheville Area. For more resources in different places around solidarity and mutual aid in this intense time, visit ItsGoingDown.org.
To see a few pictures of the propaganda distributed to No Evil Foods workers, check our show notes. Here are also a couple of links to flyers against the union busting found on social media (1, 2) as well as a post about a Zapatista school complaining of misrepresentation by No Evil Foods in their marketing and a collection of links including audio recorded from one of the forced anti-union meetings.
PLANning for Anti-Pipeline Action
After that, you'll hear a conversation with Garrett, an anarchist involved in Pipeline Legal Action Network, based in so-called Minnesota. PLAN has recently published a legal workbook for people planning around resisting pipeline infrastructure expansion, in particular with the Line 3 pipeline. The guide also brings together a lot of other useful resources for any crew or affinity group and is available for free at PlanLine3.com alongside a lot of other material.
Announcements
Share Your Words For Our 10 Year Anniversary Show
Basically, we're opening up the lines to hear what you have to say to us. Send us a message about the show, any memories you have, what you'd like to see or how it has affected you.  Instructions for signal voice messages, voicemails or sending us mp3's can be found here.
New Free Community Meals in Asheville
On Sundays at 4pm near 644 Haywood, just around the corner from Firestorm Books, a project calling itself Hot Potatoes is offering free, hot meals from reclaimed and donated ingredients to the community as well as free produce when available.
Grand Jury Resistance
Grand Jury resistors Chelsea Manning and Jeremy Hammond have been ordered released from the Arlington, VA jail where they've been held while refusing to participate in Federal Grand Juries concerning Wikileaks and the attempted extradition of Julian Assange. This came days after Chelsea allegedly attempted self-harm or suicide in her cell under the stress of nearly a year in prison and after only about a year after being released from an military prison. Amazingly, although the government was imposing a fine of a thousand dollars for each day of her incarceration for refusal, within a few days of her release the fines a crowd source fundraiser paid off the remaining $267,000 in fees she was facing upon release. Jeremy Hammond, meanwhile, is being transferred back to Federal prison where he will resume the last few months of his incarceration. His time was put on hold during his resistance of the grand jury. More on his Jeremy's case and how to write him a letter of support can be found at FreeJeremy.net and more about Chelsea is up at ReleaseChelsea.com.
Prisoner Corona Virus Hotline
Starting Monday, IWOC and Fight Toxic Prisons chapters will be opening a hotline that prisoners in the so-called US can call into to report outbreaks, denial of adequate medical care and other circumstances related to Corona Virus. To allow for the calls to be free for prisoners, fundraising is happening now. You can learn more at bit.ly/covid19prison
Update on Eric King
Anarchist and antifascist prisoner Eric King is fighting a possible 20 year charge added to his remaining time. In recent disclosures he talks about his targeting by prison staff at FCI Englewood, who threatened him and his family during visiting time, including consciously sitting his partner and their two kids near to the sex offenders during visitation, rather than in the separate family section. In his statement to the court, Eric says that when he attempted to use the prisons own complaint mechanisms he was further targeted for assault and harassment by staff, including continued harassment about his family, threats that fall under the protections afforded by the Prison Rape Elimination Act (PREA) of 2003, interferences with his ability to communicate with his family and his lawyers, removal of his personal and legal items and more. You can read the whole thing up at SupportEricKing.org, where you can also find the fundraiser for his legal defense to fight this 20 year hit he might face. The fundraiser is also up at fundrazr.com/e1cKo1. You can also find our interview from last year with Eric at our website.
Month in solidarity with Bomani Shakur
Finally, for the month of April, 2020, the Revolutionary Abolitionist Movement and others will be trying to focus attention on the Lucasville Uprising death row case of Bomani Shakur, aka Keith Lamar. He's been held for almost 18 years for charges related to the uprising and has been denied the ability to effectively challenge his death sentence even though the state recognizes that it withheld potentially exculpatory evidence in his initial conviction. You can learn more about his case and how to get involved in the month of action for Bomani at revolutionaryabolition.org , more about his case at KeithLamar.org and our past interview with Bomani at our website.
. … . ..