Prisoner Support (Dan Baker, Mongoose Distro, Pushing Down The Walls)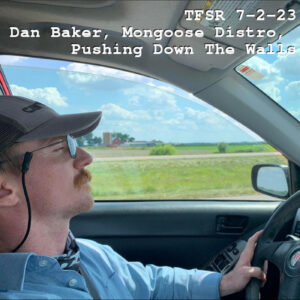 This week, I had the pleasure of speaking with supporters of incarcerated anarchist and antifascist, Dan Baker about the case and the support fundraiser.
In the conversation, Dan's friend Eric and Dan's partner Pinky are joined by the main person behind Mongoose distro talks about publishing radical prisoner while 2 members of Orange County Anarchist Black Cross (Big Cartel shop) talk about the ABC Federation War Chest, the upcoming Pushing Down The Walls (Instagram) burpee challenge and the efforts of indigenous anarchist prisoner Oso Blanco to support indigenous children's education and the book of poetry and short fiction he recently co-authored entitled The Blue Agave Revolution: Poetry of the Blind Rebel.
**Just a headsup, after the interview took place, Daniel Baker started using they/them pronouns, so during this conversation we're using the incorrect pronouns.**
By the time you hear this interview, we're hoping Dan will have been released from prison. Dan has sorted out housing for their release into Florida but you can help with getting him on their feet by donating at Fundraizr.com/DanBaker2023. You can hear a full version of this podcast here.
Announcement
Phone & Email Zap for Rashid
But quick a short message from supporters of political prisoner, Kevin Rashid Johnson of the Revolutionary Intercommunalist Black Panther Party whose struggle with cancer we spoke about in our December 11, 2022 episode and interviewed a few years earlier:
We learned yesterday that the prison administration at Sussex 1 suddenly stopped taking Rashid for the radiation treatments for the prostate cancer he is suffering and threw him in the hole, with none of his belongings, very uncomfortable. Their excuse? A guard accuses him of transporting drugs into the prison in the prison vehicle transporting him between the prison and the hospital where he has been receiving the treatments. This is definitely not something Rashid does! Remember, Rashid was forced to wait over a year between diagnosis and beginning of treatment, and now, it appears that treatment is being interrupted.

His comrade reports:

"He is in Administrative Segregation, following a treatment visit at the hospital. This is something [the radiation treatments] that he has been doing for some time now. He states that he has about 2 weeks of

treatment left & he thinks that they are trying to disrupt the treatment. He has no property in the cell, It's stripped bare, no blanket, sheets, nor mattress. The toilet is not working, no running water.

The pigs had been acting strange since last week , constantly surveilling him , even while in then BR. The report they got that they trashed his cell & were gathering all of his property while he was away for his treatment. He thinks it is a set up.

He thinks there should be a phone & email zap."

Here are people to contact to complain about this treatment. Please call and email these authorities—more than once.
Sussex I State Prison Warden Beth Cabell, Lead Warden,

Phone: (804) 834-9967
Snail mail address: 24414 Musselwhite Drive Waverly, VA 23891

Director of Health Services, VADOC, Steve Herrick

Steve.herrick@vadoc.virginia.gov and ruth.smith@vadoc.virginia.gov. (804) 887-8118

Director of Corrections, VADOC, Harold Clarke

Director.Clarke@vadoc.virginia.gov (804) 674-3000
. … . ..
Featured Track:
Supernature by Cerrone from Cerrone III