Airs on WSFM-LP 103.3 in Asheville / streaming at AshevilleFM from 3am EST on March 4th through 10th, 2019 and podcasting on libsyn.com.
Rayquan Borum Trial Begins + Scaling Up Climate Resistance
This week we're sharing two interviews.
First up, I spoke with glo merriweather and jamie marsicano, two supporters of Rayquan Borum, a young black man accused by Charlotte PD of killing Justin Carr, another protester out during the Charlotte Uprising after the police killing of Keith Lamont Scott in mid September of 2016. Rayquan spent 2 years and 5 months in pre-trial detention and his trial just began. Some witnesses to Carr's death claim the Charlotte PD killed him, not Borum. Check out our April 2018 interview with glo, jamie and ash for background on the case. You can follow CharlotteUprising at their fedbook page.
Second we air an interview with Mia from Rising Tide North America, Selma from Ende Gelande and Johanna from the Climate Justice Action Camp in Germany about the tour the three are engaging around the so-called U.S. We talk about mass movements to stop the extractive industries in Germany and the U.S., the Yellow Vest movement, the Green New Deal and more. The tour dates and synopsis is up at risingtidenorthamerica.org under the title "Scaling Our Climate Resistance." If you can't make the tour dates, there's also a free webinar on March 11 at 8pm EST.
If you're listening to the radio, we suggest checking out the podcast version up at thefinalstrawradio.noblogs.org for an extra 40 minutes of interviews as well as Sean Swain's segment on the Portland PD working with Patriot Prayer and a couple of announcements.
Announcements
Eric King Moved
Vegan, anarchist political prisoner Eric King who we focused on in our January 20th episode, has been moved again. Now he's at USP McCreary, about 20 hours drive from his wife and their kids in Colorado. You can write to Eric at:
Eric King 27090045
USP MCCREARY
P.O. BOX 3000
PINE KNOT, KY42635
and find out about donating to his commissary, his booklist, find his writings and specifics about the tight mail restrictions at McCreary, visit supportericking.org.
Soledad Phone Zap
On March 3rd and 4th there is a phone zap, a request for as many people to call in to protest as possible, in order to disrupt scheduled "gladiator fights" being deliberately staged by corrections officials between conflicting sets of prisoners at Soledad prison in California. More on these "gladiator fights", plus a script, numbers and who to call available at IWOC's website.
From Blue Ridge to Zagros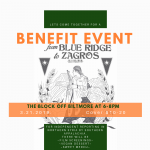 In Asheville, there's an event we're happy to share coming up to support local solidarity and infosharing efforts between Rojava and Appalachia. From 6-8pm at The Block Off Biltmore on Thursday, March 21st. The event will have vegan deserts, a film screening and sweet, sweet merch to help the effort. More info coming soon, check our show notes for a flyer image.
. … . ..