Airs on WSFM-LP 103.3 in Asheville / streaming at AshevilleFM from 3am EST on July 29th through August 4th, 2019 and podcasting on libsyn.com.
Resisting Tyranny in Hong Kong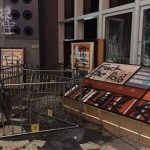 For the hour, we spoke with Ahkok who identifies as a humanitarian, antifascist and musician who grew up in Hong Kong and has participated in protests over the years including the Umbrella Movement and current protests today. We talk about the mindset of the Hong Kong protests, the situation in China, decolonization, racism and more.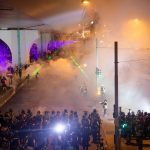 Y'all may have heard that over the last 8 weeks or so, Hong Kong has been rocked by protests to undermine efforts by the government to create an extradition treaty with China. The protests have included barricades, interesting uses of AirDrop, Telegram and whatsapp and other digital platforms to avoid censorship to spread information, street fights against police and attacks from criminal gangs they and the Chinese government hired (the so-called "White Shirts") and a raucous romp through the empty legislative chambers of governance leaving wreck and ruin behind. The street actions come on the 30th anniversary of the Tienanmen Square Protests of 1989 when student sit-ins demanding democratic political and economic reforms were killed in Beijing and around by the so-called Peoples Liberation Army. Currently, western reporting and word from dissidents inside of China has come about the Re-Education camps such as in Xinjiang where the Chinese government has been interring Uighur Muslims and other ethnic and religious minorities in order to stamp out their religion and socialize them to a more homogeneous Chinese lifestyles, definitely a reason for Hong Kongers to take the streets to keep dissenters there from easy deportation to China.
A couple of interesting ways to keep up on perspectives from the region include ChuangCN, crimethInc, Hong Kong Free Press.
If you're listening to the radio version on AFM, consider checking out the longer podcast listed above.
Announcements
BRABC events
If you're in the Asheville area, on Friday August 2nd from 6:30-8 at Firestorm Books, Blue Ridge Anarchist Black Cross will be showing the documentary "Love And Revolution" about autonomous and anarchist responses to austerity, police violence and resistance to borders and love for the people who cross them in Greece. More on the film at the website lamouretlarevolution.net. Then, on Sunday August 4th from 5-7pm BRABC invites you to it's monthly political prisoner letter writing. Show up to scrawl a few screeds and meet some nice wingnuts.
Bennu Hannibale Ra-Sun
Supporters of Bennu Hannibal Ra-Sun, recently moved out of solitary confinement after years in the hole for organizing non-violent resistance behind bars, are asking folks to show up in Montgomery, AL to support a court hearing for him at 10AM Montgomery County Courthouse, Courtroom 3C, 251 S Lawrence St. Montgomery, AL 36104 held before Circuit Judge James H. Anderson Fifteenth Judicial Circuit.
Support Workers Coop Efforts
Finally, comrades in Carbondale, IL, have put together a gofundme to help fund a workers cooperative. You can find the site by searching "Carbondale Spring Fat Patties Cooperative", an effort to re-open a closed burger joint to feed the working class, not some fat cat CEO. More info about organizing efforts in Carbondale can be found at carbondalespring.org.
BAD News: July 2019
This month for the A-Radio Network's "Angry Voices From Around The World" podcast we feature a shortened segment from our previous episode of TFSR with Perilous Chronicles, as well as A-Radio Berlin with notes on the National Socialist Underground trial in Germany and A-Radio Vienna with call-ups for the August 23-30 International Week of Solidarity with Anarchist Prisoners and support for prison rebel, Andreas Krebs.
. … . ..
This week, we featured "Jab Cross" by Lucy Furr from their recent album, The Jungle, as well as the track "4K Punk Rock" by antifascist post-rock band Remiso's album, Pleasant With Presentiment.