The full podcast version, including Sean Swain's segment, can be found here.
Josh MacPhee & Alec Dunn on Signal 08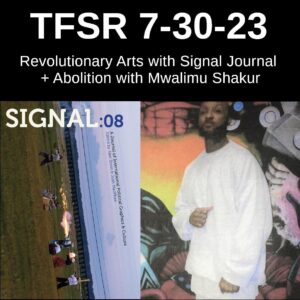 First up, Ian interviews Josh MacPhee and Alec Dunn, co-editors of Signal, about the recently published eighth volume of the Journal of International Political Graphics and Culture. They discuss their motivations and experiences producing Signal for over a decade, designing print media in the digital age, and their work as part of Justseeds Artists' Cooperative, long-running, geographically dispersed artist collective dedicated to the production of radical art for grassroots movements.
Mwalimu Shakur on Abolition, Organizing and Education
Then, you'll hear most of a conversation with imprisoned New Afrikan revolutionary socialist, Mwalimu Shakur currently incarcerated in Corcoran Prison in CA, about abolition, political education and the hunger strikes of 2013 in which he participated.
You can get in touch with Mwalimu:
Terrence White #AG8738
CSP Corcoran
PO Box 3461
Corcoran, CA 93212
Announcements
BRABC Letter Writing
Join Blue Ridge ABC on the first Sunday of each month, next up being August 6th from 3-5pm at the NEW Firestorm spot at 1022 Haywood Road, in West Asheville. And swing by our table at the ACABookfair August 12-13 at Different Wrld to get involved, get a poster for the upcoming International Week of Solidarity with Anarchist Prisoners and check out the other awesome stuff.
ACABookfair
If you're nearby, consider a visit to the 3 days of event around the Another Carolina Anarchist Bookfair in Asheville from August 11-13 with tons of speakers, publishers, music and more. https://acabookfair.noblogs.org
Dr. Mutulu Shakur, ¡Presenté!
New Afrikan revolutionary elder, accupuncturist and revolutionary Dr. Mutulu Shakur joined the ancestors at the age of 72. He was released by the state after 36 years in prison, organizing, healing, educating and inspiring despite having developed a virulent bone cancer. Dr. Shakur spent the last year on this planet continuing his work, speaking and attending events, surrounded by loved ones. Rest in power.
Ruchell "Cinque" Magee Will Be free!
Politicized prisoner and jailhouse lawyer, Ruchell "Cinque" Magee, is slated to be released after 67 years in the California prison system. Cinque is 84 years old, arrested on an indeterminate sentence around a marijuana charge from 1963, he joined the attempted jailbreak during the Marin County Courthouse shootout in which Jonathan Jackson attempted to free William A. Christmas and James McClain. Ruchell was the sole survivor and was a co-defendant of Angela Davis until their cases were split. There is a fundraiser to support Cinque's post-release needs as an elder: https://fundrazr.com/82E6S2
Rashid's Treatment Resumes, Thanks To Support!
As an update to past announcements from Kevin "Rashid" Johnson of the Revolutionary Intercommunal Black Panther Party, the public pressure from calls & emails apparently had the desired results and as of a few days ago he was receiving the medical treatment he needs for his prostate cancer, though he hasn't received all of his papers so he can continue to pursue his lawsuits against the Virginia DOC since they were confiscated by prisoncrats, but he's super thankful for public engagement to defend his health. More updates on his case can be found at rashidmod.com
. … . ..
Featured Tracks:
Don't Play Around (Instrumental) by DJ Nu-Mark from Broken Sunlight Series 6
Black Hole by The Bulletproof Space Travelers from Urban Revolutions – The Future Primitive Sound Collective