The Political Legacy of Lyndon LaRouche (w/ Matthew N Lyons)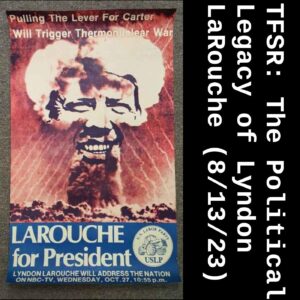 This week, we're sharing an interview with Matthew N Lyons of Three Way Fight blog about the political legacy of Lyndon LaRouche, cultic leftist turned fascist US political figure from the 1970's through his death in 2019. For the hour, Matthew and I talk about the network of organizations and publications of the LaRouche movement, some of their approaches toward peeling adherents from the left, antisemitic conspiracy theories he innovated, methods his movement used to control followers and some of the ripples of LaRouche you can find today. We also speak briefly about the Three Way Fight book due out in the spring via Kersplebedeb and PM Press. Full episode can be found here.
Our past interview with Matthew on Christian Nationalism(s): https://thefinalstrawradio.noblogs.org/post/2022/11/20/matthew-lyons-on-christian-nationalisms/
Lyons articles on LaRouche (in addition to the chapter in Insurgence Supremacists on the movement):
Books critiquing LaRouche from an antifascist position:
Some current political figures appearing to relate to the legacy of LaRouche's red-brown politics:
Related:
. … . ..
Featured Track:
Unreleased Instrumental 1 by DJ Muggs x MF Doom from Deathwish