The Post-Internet Far Right and Ecofascism with 12 Rules for WHAT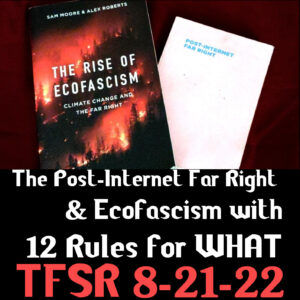 This week, our guests are Sam and Alex (not their real names). Sam was until recently the co-host of the 12 Rules for What podcast and is the co-author with Alex of their two books, The Post Internet Far Right and The Rise of Ecofascism. Sam is now focusing on writing at Collapsology Sub-Stack and the Collapse Podcast, and you can support Alex's ongoing work with 12 Rules for WHAT podcast via their patreon or check out the podcast via Apple Podcasts or Channel Zero Network. We talk about fascism, ecological trends on the far right, Patriotic Alternative, Patriot Front, grifters, the Tories and antifascist activism. Oh, and a lot more.
Next week…
Next week's show will feature an interview with a member of the Malcolm X Grassroots Movement about the case of Dr. Mutulu Shakur and his struggle for compassionate release despite being 7 years past his date for release eligibility and his diagnosis of bone marrow cancer.
Announcements
Shinewhite Phone Zap
Anti-racist, communist prisoner held in North Carolina, James "Shinewhite" Stewart, is facing severe repression and deprivation at Maury C.I. where he was recently transferred; he's been in solitary since he was transferred, denied food and his blood pressure medicine, and had various pieces of property and correspondence stolen, as well as mail tampered with. He is asking people to make urgent calls and emails to Secretary Eddie M. Buffaloe of the NC Department of Public Safety in order to demand SW's transfer out of state (called "interstate compact") to West Virginia:
Shinewhite wanted to share that his politics have evolved in such a way that they no longer align with the Revolutionary Intercommunal White Panther Organization (RIWPO), so he's stepping down from his role as National Spokesperson for the organization. However, Shinewhite still believes deeply in Intercommunalism and the liberatory vision of the Revolutionary Intercommunal Black Panther Party (RIBPP).
Indonesian Anarchist Paralegal Fund
Anarchist Black Cross in Indonesia, Palang Hitam, is fundraising for their paralegal trainings for anarchists and anti-authoritarians. You can learn more and contribute at Firefund.Net/PalangHitam
Bodily Autonomy Rally in the South East of Turtle Island
There's a rally next Thursday at 11 a.m. at the Justice AA Birch building in Nashville to protest the abortion ban in TN. Others in the area, keep an ear out for demonstrations in South Carolina despite the overturning of the 6 week abortion ban, and because of the 20 week abortion ban now in effect in North Carolina. More on the latter two pieces of news and ways to support folks seeking abortions at linktr.ee/CarolinaAbortionFund
BAD News: Angry Voices from Around The World
A new episode of the A-Radio Network's monthly, English-language podcast, BAD News. This month it includes an interview with Greek Anarchafeminist group "Salomé", a chat with an organizer of the Weekend Libertaire in St-Imier (Switzerland) on the 150th anniversary of the first anti-authoritarian International, and a call for solidarity with anarchist prisoners. Give a listen!
Firestorm Benefit Concert
There's a benefit party & queer country show at the Odditorium on Wednesday, August 31 for Firestorm's building purchase, right across the street from the venue. It runs from 6pm to 10pm and you can find out more by checking out their social media.
Blue Ridge ABC Letter Writing Event
We've been forgetting to announce, but on Sunday, Sept 4th at West Asheville Park from 3-5pm you can find Blue Ridge ABC writing to prisoners. They'll provide a list of political prisoners with upcoming birthdays or facing repression who could use some words of support, plus paper, pens and addresses. Come down, meet some folks and send some love behind bars.
. … . ..
Featured Track: